Did Someone Say Prime Rib Near Me?!
Prime rib is a delicacy that requires special attention during the cooking process. When you order prime rib at a restaurant, you're expecting a delicious, high quality meal. The best prime ribs are prepared by restaurants that specialize in the dish.
If you're seeking a high quality prime rib restaurant near you, look no further than Churchill's Prime Rib House in North Bay, Ontario.
View the Fine Dining Menu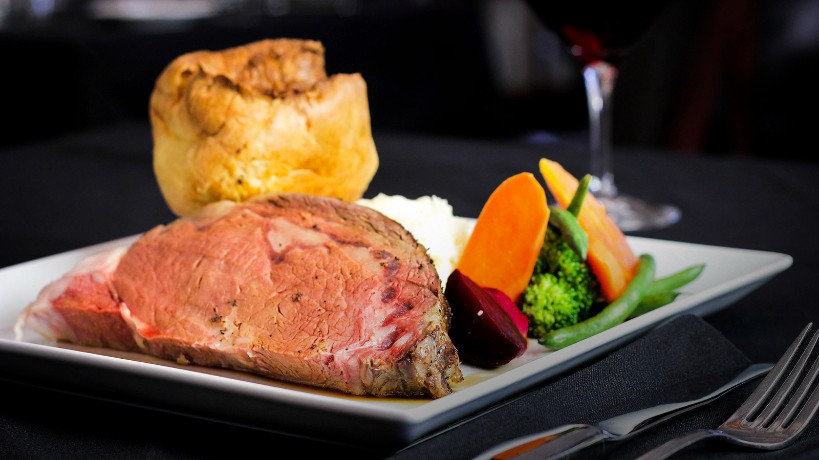 The Prime Rib Experts
For over 40 years, Churchill's has served North Bay Ontario as its premiere prime rib and steakhouse. Tables are constantly filled with customers who always leave the restaurant saying "the food was incredible, and the service was impeccable."
Between our restaurant's high quality service, delicious food, and exquisite setting, there are so many reasons to enjoy your next prime rib at Churchill's.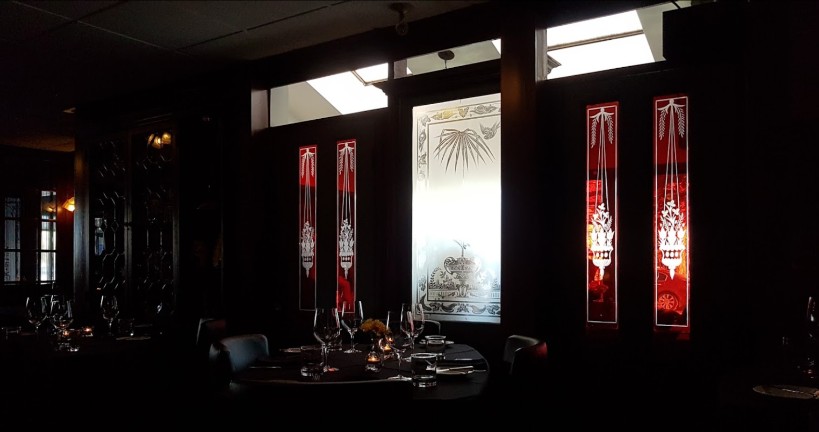 Atmosphere & Environment at Churchill's
When it comes to fine dining in North Bay, Churchill's remains on top. Between our award-winning menu, relaxed atmosphere, and friendly staff, Churchill's remains the place to be for any elegant night out.
Make a Reservation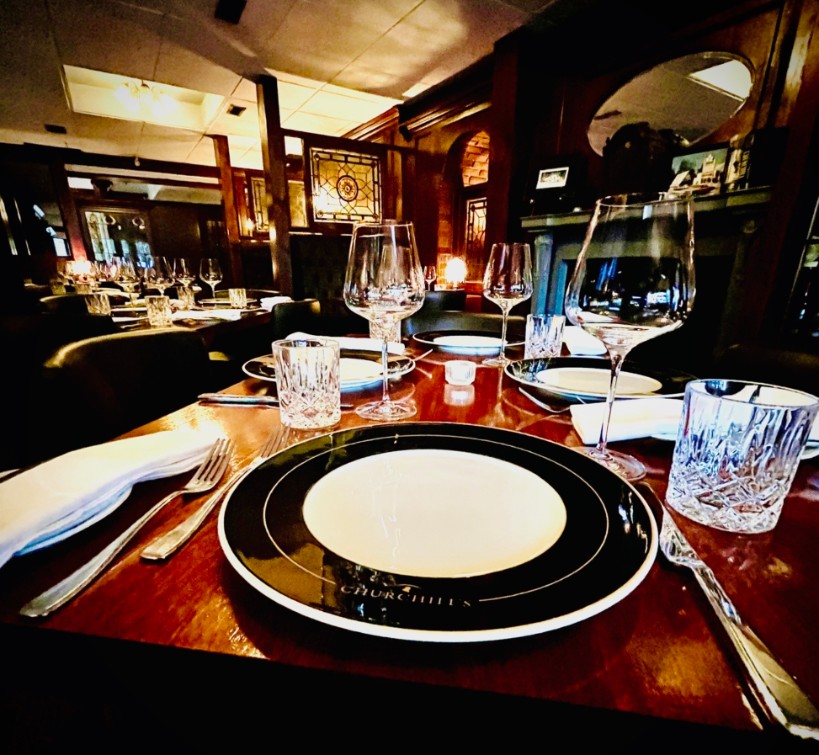 Chumbolly's, The Loft, and barCultura
Churchill's is home to Chumbolly's, The Loft, and barCultura. Combined, these areas of our restaurant provide a unique dining experience unlike any other restaurant in North Bay. Each area offers an exciting variety for guests at all times.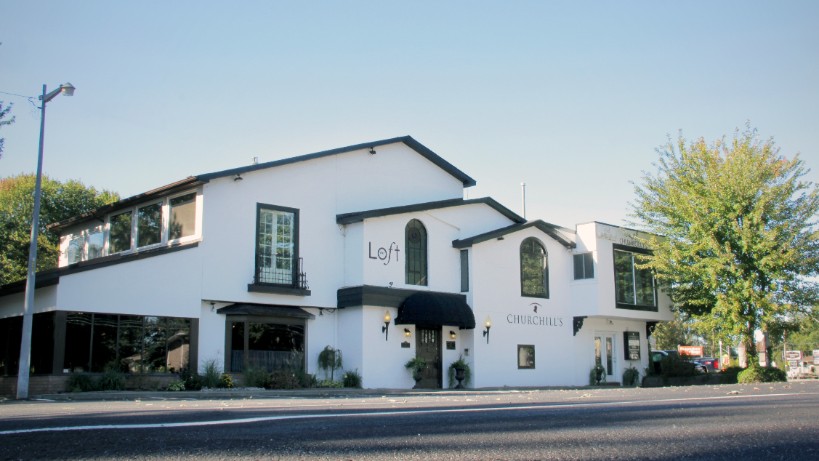 Chumbolly's
Intimate dining lives at Chumbolly's! Located upstairs at Churchill's, this area is a favourite for small groups to enjoy a lounge-like atmosphere during a night out. Chumbolly's is the perfect spot to meet with friends for drinks, a meal, or both.
Chumbolly's is also a popular spot for small weddings and other private gatherings. Your friends and family will love the refreshing experience that Chumbolly's has to offer.
Chumbolly's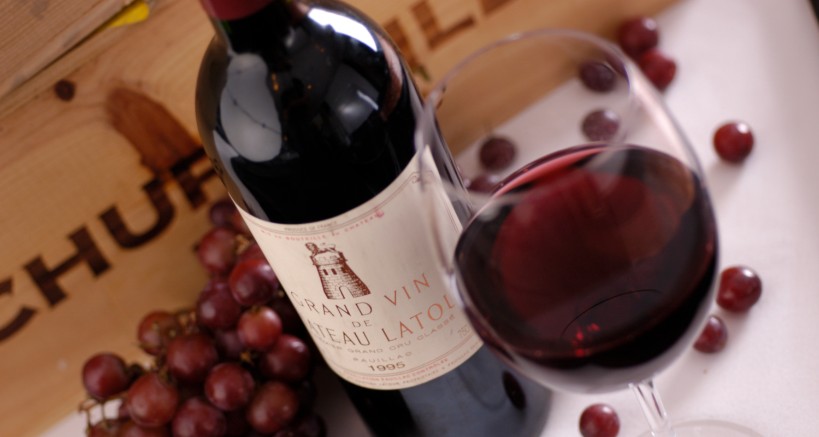 The Loft
The Loft is the place to be for weddings and catering. The Loft has a large enough space to accommodate your group. Enjoy prime rib and more, as created by Churchill's talented and attentive chefs.
Not only does The Loft offer enough space for a large group, but there is also enough space for entertainment at private events. Wedding reception guests commonly enjoy DJs and dancing in The Loft's spacious area.
The Loft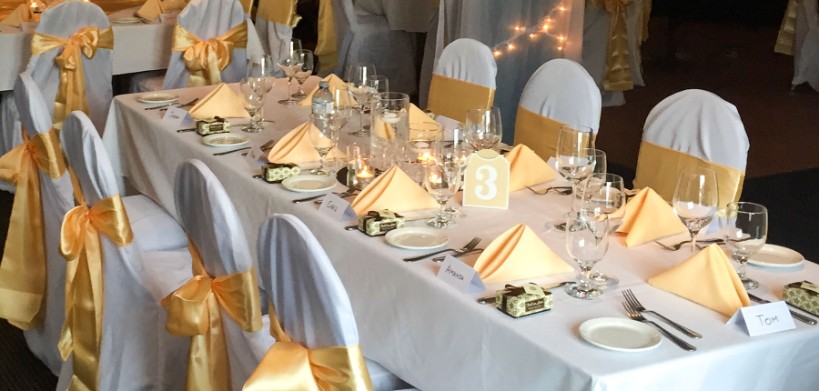 barCultura
barCultura is the latest addition to the Churchill's family. Great food, great conversation, and relaxation awaits. Enjoy oysters, tapas and cocktails from our frequently-updated menu. barCultura brings delicious plates from all cultures to North Bay's food scene.
Churchill's chefs travel worldwide seeking inspiration and ingredients to bring home. Experience the flavours of the world at barCultura.
barCultura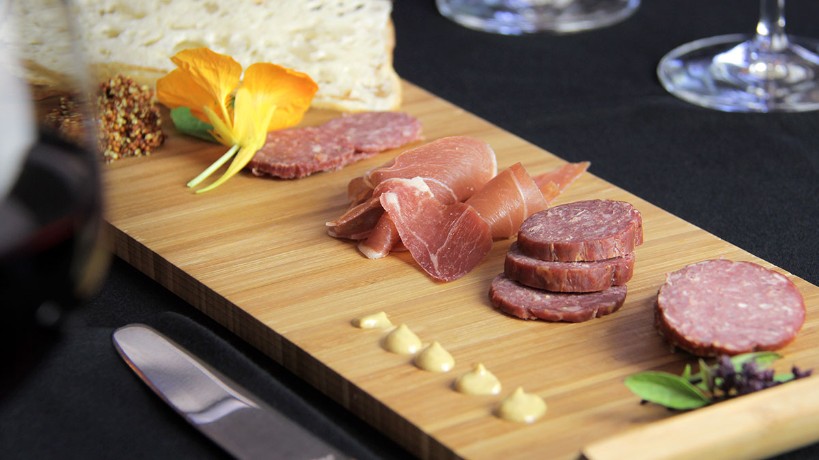 Churchill's' Menu
Churchill's award-winning menu consists of some of the finest items in all of North Bay. Countless rave reviews have landed Churchill's among the top 50 restaurants in all of Canada.
Featuring premier dishes like prime rib, steak, and seafood, Churchill's has something wonderful for everyone. Customers have the option to dine inside our restaurant, or even takeout food for delivery or pick up. Place your order tonight or come dine in-restaurant.
View the Menu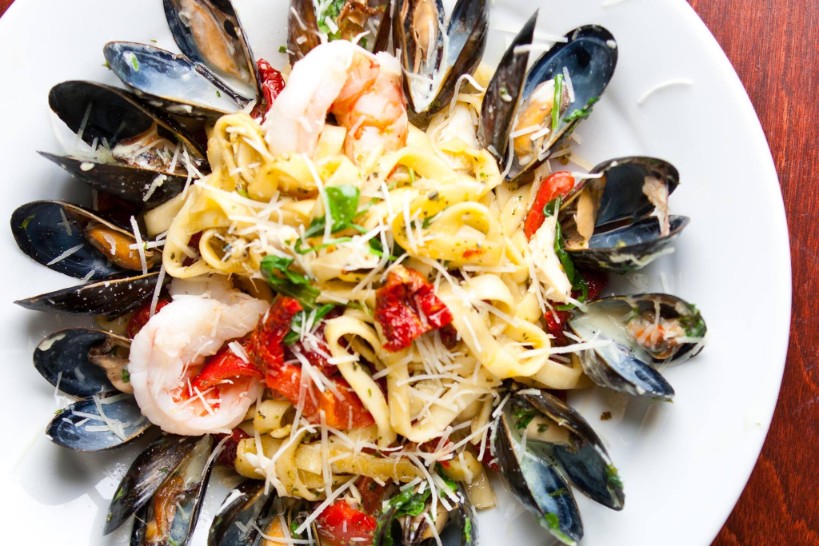 Top Tier Service
Churchill's staff is not only friendly and attentive to details, but also extremely knowledgeable. Our knowledge of ingredients and wines provide expert recommendations for all palates. You won't find an elevated dining experience like this elsewhere in town.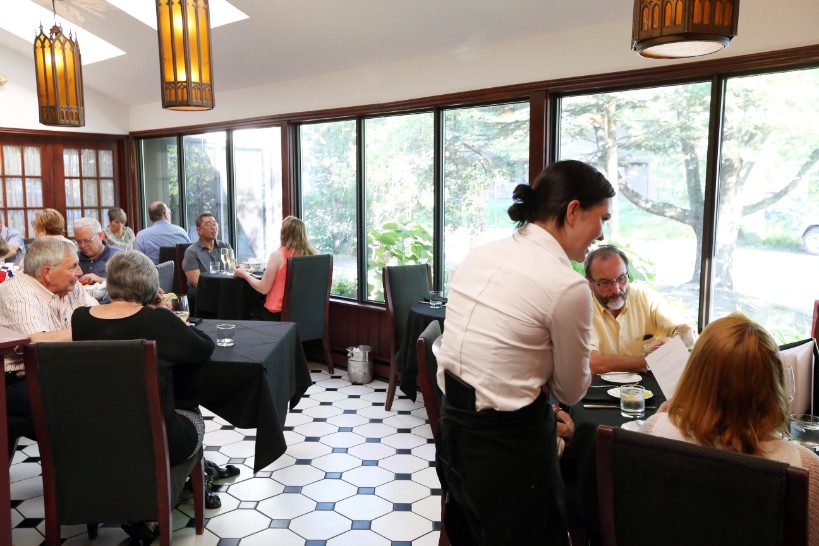 Keep The Drinks Flowing
Churchill's is an excellent spot to meet up with others for a drink. Churchill's' elegant setting provides a more laid back space compared to a regular pub. Our bar provides a relaxed atmosphere for socializing amongst friends, colleagues, and dates.
On nights where you don't feel like eating a full meal, appetizers from Churchill's kitchen pair excellently with our bar menu.
Reservations for Churchills in North Bay
Churchill's can be reserved for dinners, weddings, and more. Dinner reservations can be sent to the restaurant via email or phone call. Due to the popularity of our restaurant, reservations are highly recommended.
Special events require a longer conversation with the restaurant. There are multiple rooms you may book depending on your needs. Our staff is ready for you to contact them and help organize all of the details and price of your next event.
Make a Reservation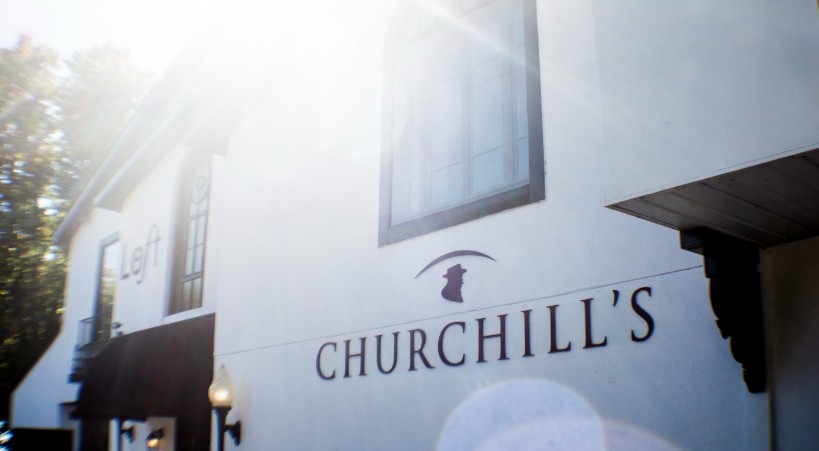 Groups and Special Events
Churchill's are experts at hosting unforgettable events. Whether you're celebrating a special occasion like a wedding, birthday, or office party, any event at Churchill's is a memorable one. You'll love the top-notch service our staff has to offer.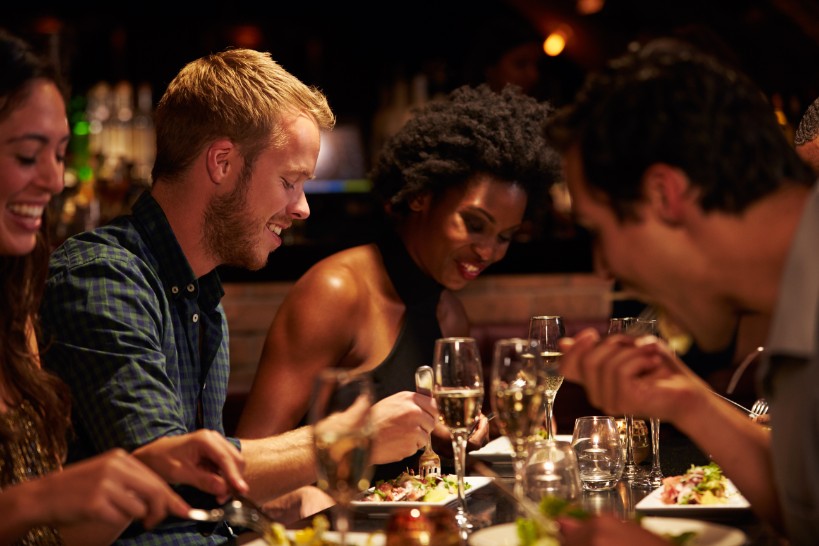 Your Wedding Reception at Churchill's
Churchill's is a popular wedding reception venue in North Bay. Our classic charm, attentive staff, variety of space, and delicious food are perfect for your special day.
The Loft and Chumbolly's offer spaces for small to medium sized groups. We host ceremonies and receptions. Churchill's also provides space and recommendations for entertainment in order to add a little more fun to your wedding reception!
Between Churchill's large space and in-house kitchen, the ease of having a one-stop-shop for a wedding is what makes us such a popular wedding venue in North Bay Ontario.
Weddings at Churchill's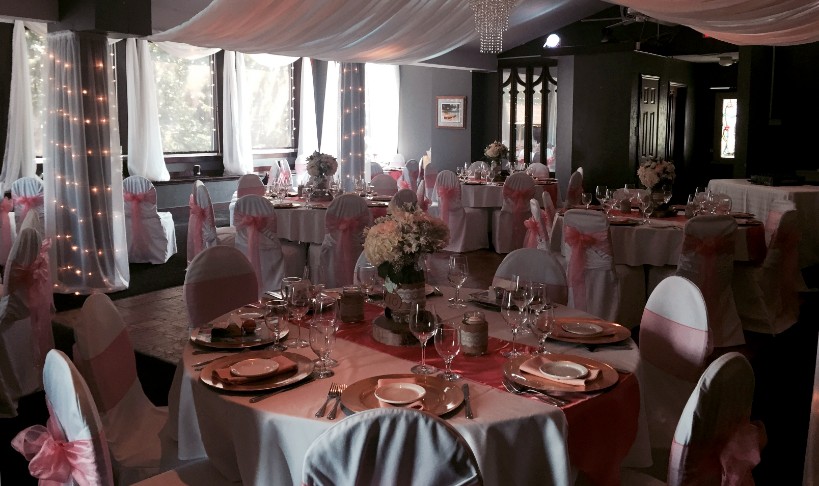 Wedding Menus
Your guests will enjoy fine dining on your big day with both plated and buffet options. Various meal and side dish options let you choose what's best for you and your guests.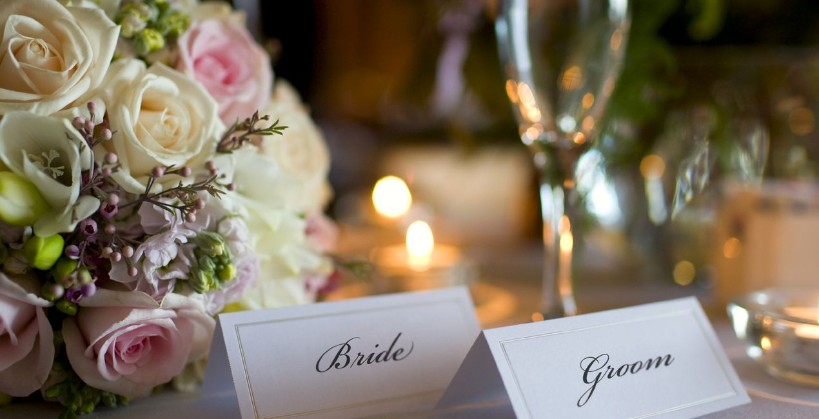 Plated Dinners
Plated dinners are a traditional, beloved option offered for weddings at Churchill's. There are two options available.
For $55 per person:
Choice of either house salad or Caesar salad; all guests receive the same appetizer once you make the selection
Three choices of main courses: prime rib, chicken, or gnocchi
For $60 per person:
Three choices of appetizers: house salad, Caesar salad, escargot; all guests have a choice of appetizers
Four choices of main courses: prime rib, chicken, gnocchi, or salmon; all guests have a choice of main course
Chef's creation dessert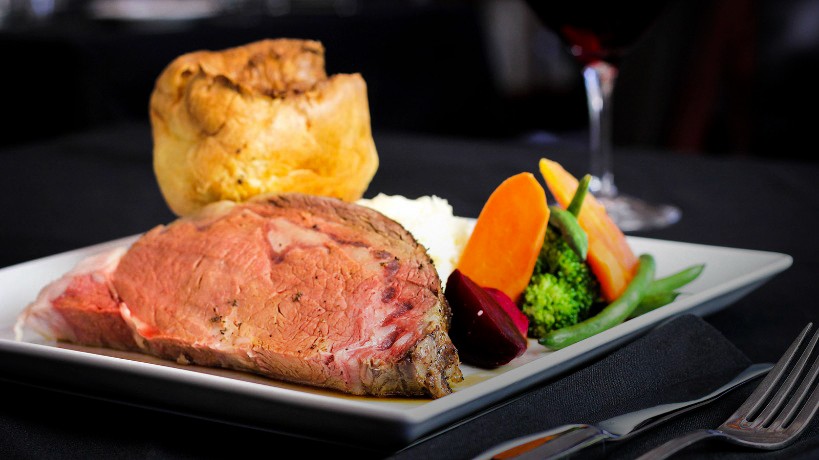 Buffet
As an alternative to traditional plated dinners for weddings, Churchill's also offers a buffet option for $55 per person.
Included:
Two salads
One starch
Chicken: choice of grilled, stuffed, or roasted
Prime rib of beef
Chef's creation dessert
Weddings at Churchill's
In-House Catering
If you're seeking catering, Churchill's is the perfect option for when you have your own venue, but require an extra hand with the food. Churchill's will bring the kitchen to you!
Thanks to our full-service catering, you can host an impressive and memorable dinner party without having to spend your day in the kitchen.
Relax and enjoy the time with your friends and family, and let Churchill's ensure your dining experience is flawless and hassle free. We'll help you show everyone an incredible time!
The reviews don't lie: fine dining in North Bay is at its best at Churchill's. Our prime rib, steaks, seafood, and other food options are incomparable to any other restaurants in the city. People are constantly commenting on the high level of service offered by our steak house's staff.
Whether you're visiting Churchill's for a casual dinner or a special event like a birthday or wedding, your experience will always be elegant. Get ready to enjoy the fine dining atmosphere that Churchill's provides when you visit.
There's a reason why Churchill's has become a community icon with over 40 years of service. Our level of care and attention to details exceeds expectations at all times. Some of the toughest food critics who review the restaurant agree that everything Churchill's has to offer is on an elevated level.
Make a Reservation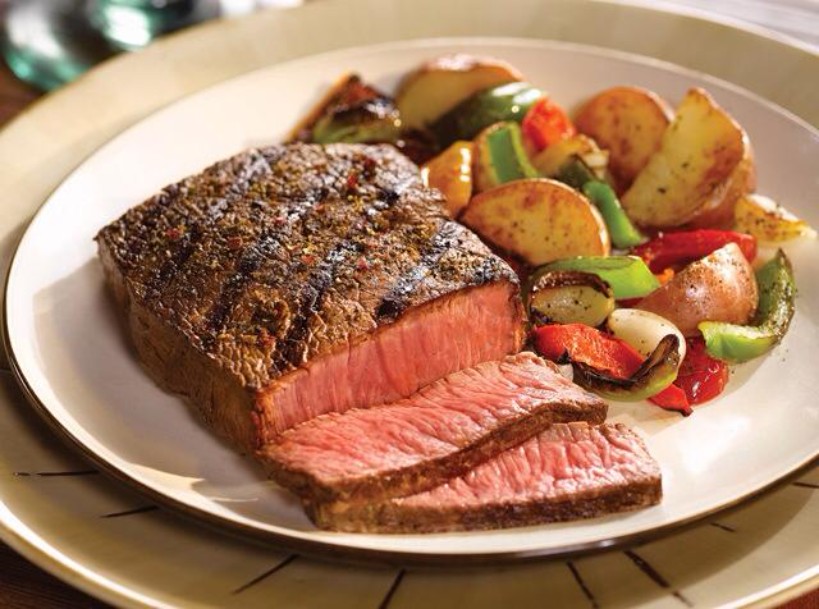 Surrounding Neighbourhood
Churchill's is located on Lakeshore Drive in North Bay. Our location is just another part of what makes us so special. Just a short walk from Sunset Park, the beautiful atmosphere of the area offers a picturesque location for photos on the beach. The location's natural setting is the perfect backdrop for your wedding portraits, or those perfect everyday shots you can't resist turning into Instagram posts.
The neighbourhood is also highly walkable for any guests seeking some fresh air. Take in beautiful surroundings and breathtaking views of the lake! Hosting a wedding at Churchill's? Your guests will also enjoy the convenience of being within walking distance of numerous hotels – perfect for those who travelled to be there for your special day!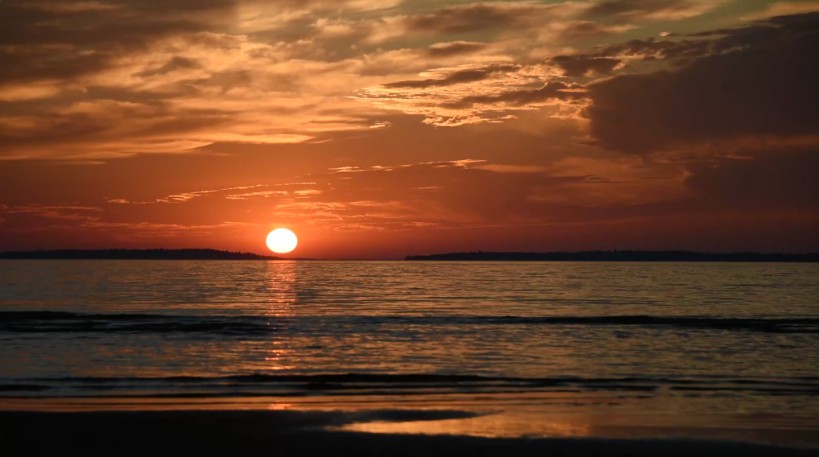 Visiting North Bay
If you're visiting from out of town, Churchill's is just one of many gems that North Bay Ontario has to offer! A visit to a place like North Bay is exciting for everyone. There's always lots to do. Between its waterfront, close proximity to nature, and small-town friendliness in a city, North Bay is a place worth checking out!
The drive from Toronto, Mississauga, and the rest of the GTA will only take you a few hours. Experience all that cottage country has to offer in an urban environment. This also makes North Bay the perfect place to host a wedding if you have guests coming from Southern Ontario. Show yourself and your family all that North Bay has to offer as a one-of-a-kind place in Northern Ontario.